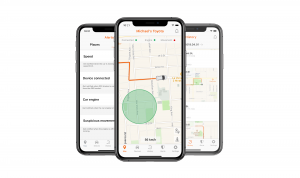 When we're talking about a car tracker app, you need to be sure you're getting one that actually does what it says on the box: track your car. Of course, determining what a good car tracking app is can be quite difficult, with so many auto tracking app options available all over the place.
An excellent car tracking GPS app like TrackingFOX of course will come with a lot of great features that you need. But how do you know which features on the vehicle tracker app are actually necessary, and which are completely useless?
That's what we'll be discussing today: what you need to know in order to help you choose a great car tracker app that checks all the boxes and shows location of your vehicle in a real time. Later on, we'll tell you why there's only one vehicle tracker app that we'd recommend: the TrackingFOX car tracking app.
But before we get there, we should address a simple question of why you need a car GPS tracker app in the first place.
Why you need a reliable car tracker application
To understand why'd you want a pretty reliable app, we'll first go over why you want car tracking in the first place.
First: what is a good GPS car tracker?
A car tracking GPS app will go along with your GPS tracking device, and some companies offer offer both the device and auto tracking app, like TrackingFOX. GPS car tracking devices help you to keep tabs on where your car or other vehicle is at all times. These also come with a lot of other useful features, which we'll discuss further below.
When you're looking for the best OBD GPS tracker, like TrackingFOX, you'll want to ensure it does the following 3 things very well:
Send you on-time, real-time location updates that are accurate
Send you notifications for events like geolocation entry or exit
Alert you when there's speeding, rapid acceleration, hard braking or other unsafe driving behaviors from the designated car
If the GPS vehicle tracking device has the capability to do those three core things, then you'll be able to improve your experience with a good vehicle tracker app.
Understanding what makes a car tracking app great
Now that you've understood the need for hidden car GPS trackers in general, you'll need to understand where the auto tracking app comes into play.
You see, when you buy a GPS tracking device, it will usually come with a vehicle tracking application to help you use the device. However, oftentimes those apps are missing huge, necessary features, or they are generally not user-friendly.
That's why you'll probably want to consider using a great car GPS tracker app that works well with your dedicated car GPS tracker, like TrackingFOX. With that combination, you'll be able to know exactly where your car is at all times, giving you a solid peace of mind.
The best car tracker app
We think that a great car GPS tracker app must work well with the actual GPS tracking system. That's why we highly recommend the TrackingFOX car tracking application. This vehicle tracker app syncs seamlessly with the GPS tracking device, allowing you to get the best out of your TrackingFOX tracker.
Now, in talking about the auto tracking app, there are a lot of great features that you'll be getting with TrackingFOX. Let's go over them in detail.
Real-time tracking and history with the TrackingFOX car tracking GPS app
With TrackingFOX, you'll be able to check the exact location of your car at any time in any place. When you connect your TrackingFOX car tracker app to your GPS tracking device, you'll be able to receive real-time location information on your vehicle at all times.
Even better, you can also preview the 90-day driving history in order to know what locations the car was in over the last 3 months.
TrackingFOX car tracking app Places alerts
Get important notifications whenever someone enters or leaves a specific location. These are known as geo-location alerts – notifications that get sent to your app. That means you can mark places such as your home, school, office, or any other significant location and get notified when your car or another designated car exits or enters those locations.
That way, you can track when your husband or wife leaves their work, or when your teenager leaves their school and plan your day accordingly.
Anti-theft alerts from the TrackingFOX car GPS tracker app
When you install a car GPS tracker in your car or a significant loved one's car, you'll want to know immediately if anything suspicious is happening there. That's where TrackingFOX's anti-theft alerts come into play.
These alerts allow you to get crucial notifications if there's suspicious car movement, the engine starts, or the GPS tracking device is disconnected. That way, you can respond immediately by notifying the authorities of the last place your car was seen so that you can stand a much better chance of making sure your car is safe and sound.
TrackingFOX car tracker app's driving behavior analysis
Another amazing feature from TrackingFOX car GPS tracker app is that it will allow you to get in-depth driving behavior analysis whenever you want.
You can check the distance traveled for any trip, see how much fuel was consumed, as well as check the average speed. Even better, you can set alerts so that you can get notified anytime the maximum speed is exceeded.
With this feature from a quality car tracking app, you can improve your own or a loved one's driving behavior, leading to a lower risk of road accidents or car damage.
Bottom line for this vehicle tracker app
If you want a good experience with an auto tracking app, you can use one of the many that's available on app stores all over the world. However, if you want a reliable, feature-rich car tracker app, we highly recommend you get the TrackingFOX car tracking app.
Remember, with the TrackingFOX car tracking app you'll be able to:
Get real-time tracking and history
Set up and get Places alerts through your car GPS tracker app
Get all-important Anti-theft alerts from TrackingFOX auto tracking app
Analyze your or a loved one's driving behavior via the vehicle tracker app
The TrackingFOX car tracking app will soon become one of your most valued tools in ensuring your car is safe and sound.